Why Prequalify a Water Damage Restoration Company in the Lead-up to the Holidays
10/26/2021 (Permalink)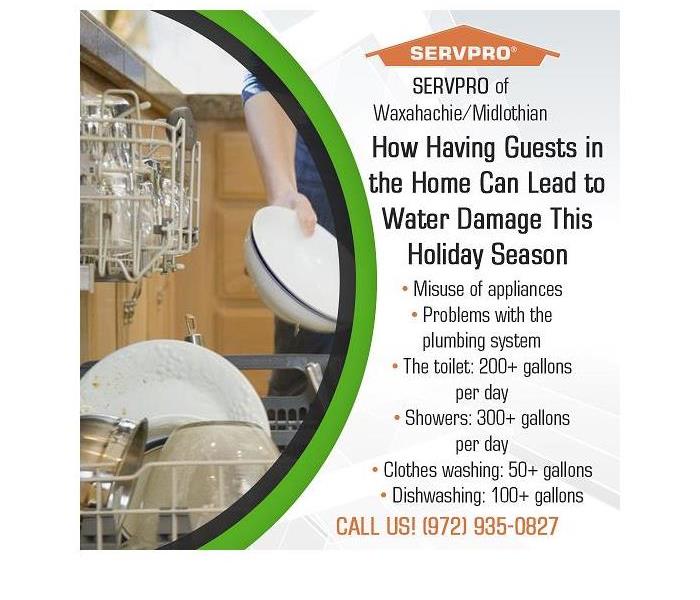 Blog Summary: Extra holiday guests can overburden a home's appliances and plumbing system, resulting in a water damage disaster. SERVPRO of Waxahachie/Midlothian urges homeowners to prequalify a damage restoration company before the busy holiday season arrives.
SERVPRO of Waxahachie/Midlothian is dedicated to providing 24/7 fire damage, smoke damage, and water damage restoration services, even during the holiday season. To make sure that the upcoming holidays remain festive, homeowners would do well to familiarize themselves with some common causes of water damage associated with the holidays and having guests in the home.
Misuse of appliances
Often, guests visiting during the holidays genuinely want to help out around the house by loading the dishwasher or helping with the laundry. However, user confusion or error can sometimes result in appliances — such as the dishwasher, washing machine, ice maker, or water filter — causing a water damage disaster. Avoid water damage by explaining how these appliances operate. Note any technical nuances such as a locking handle on the dishwasher that sometimes fails, allowing water to flood the kitchen floor.
Problems with the plumbing system
A water damage disaster caused by a sewage backup or a leaking drain pipe can be a messy, embarrassing experience. Here is a realistic estimate of the stress placed on the plumbing system based on four family members and six guests in the home. The numbers add up to plumbing trouble.
The toilet: 200+ gallons per day
Each person in the household will flush the toilet six to ten times. According to the Environmental Protection Agency, modern toilets use 1.6 gallons of water or less in compliance with federal regulations. The number of flushes per person is probably 50% higher because many people flush twice to ensure the pipes do not clog. Ten people flushing the toilet throughout the day adds up to well over 100 flushes or nearly 200 gallons over the course of a day.
Showers: 300+ gallons per day
The average American uses about 17 gallons of water per shower. Ten people in the home will take an estimated 15 showers since some family members or guests may take two showers a day. The average bath uses around 35 to 50 gallons of water.
Clothes washing: 50+ gallons
A modern ENERGY STAR-rated washing machine uses 14 gallons per load, but a standard washer uses 20 gallons. Three loads of clothes a day equal about fifty gallons of water usage.
Dishwashing: 100+ gallons
The dishwasher will run constantly throughout the day. The great news is that the appliance only needs three gallons of water per full load. Four loads equal twelve gallons of water. However, food preparation requires constant manual washing. A load of dishes, pots, pans, and utensils washed manually consumes 27 gallons of water. With all the pots and pans needed for guests, that amount is probably closer to forty gallons per day. At the end of the day, another 100 gallons of water flows through the plumbing system.
Six hundred gallons per day is a very conservative estimate of how many gallons will flow through the plumbing system each day.
An unpleasant surprise
Cooking, cleaning, washing, bathing, and flushing are no problem when everything is flowing smoothly. When disaster strikes, however, homeowners can end up with a basement that has been flooded with hundreds of gallons of soapy water and raw sewage.
Choose a water damage restoration company before disaster strikes during the holidays. A sewage backup or other water damage incident requires the special equipment, expertise, and skill of water damage restoration professionals. Water removal needs to begin immediately. Delays allow for secondary damage, such as mold growth, to occur.
SERVPRO of Waxahachie/Midlothian can respond in an hour, even during holidays. The team will even provide services on Thanksgiving and Christmas.
Once technicians have inspected the damage, customers receive an estimate with documentation. The experienced and certified team uses powerful vacuums to remove the water, and industrial-grade dehumidifiers and rapid-spin fans remove the remaining moisture. Wearing personal protective gear (PPG), technicians will remove damaged debris. If pack-out services are needed, they will relocate items to a safe site for cleaning and restoration. In addition, SERVPRO of Waxahachie/Midlothian staff handles the insurance claim process from start to finish.
Hiring SERVPRO of Waxahachie/Midlothian for a property damage restoration may make it possible to continue the holiday celebration with minimal disruption and stress. When family and friends have traveled hundreds of miles to be present for a family gathering, being able to continue the holiday celebrations despite a water damage disaster is worth celebrating.
To learn more about 24/7/365 water damage restoration in Midlothian, TX, contact the office by phone at (972) 935-0827 or email acarey@SERVPRO10932.com